NEWS AND STATISTICS
By Lennart Ask
2018-02-25 - Det finns inga likheter mellan situationen på Gotland och situationen på Krim, Ukraina eller i Georgien.
För mer information hänvisas till följande sammanställning:
Analys: Gotland - Krim, Ukraina och Georgien
2017-12-31 – Will EU and NATO ever manage to force Abkhazia and South Ossetia to join Georgia?
Georgia is a small country in the Caucasus region on the east side of the Black Sea, with two self- governing regions South Ossetia and Abkhazia, with tight links to Russia, and the autonomous region Adjara at border to Turkey.
Abkhaz and Ossetians have good reasons for not wanting to be part of Georgia, despite EU and NATO efforts to force Russia to stop supporting them.
Abkhaz was brutally forced into Georgian assimilation by the Stalin-Beria regimes 1936-1959. Both were Georgians and the Beria regime in Georgia did suppress the Abkhaz language, closed Abkhaz language schools, change Abkhaz geographic names to Georgian and initiated demographic engineering [ethnic cleansing]. Greek and Turkish minorities were deported and Georgian settlers were supported to build new houses. The Abkhaz minority went from 30 % of the population to 15%, between 1926 and 1959.
The "Georgianization" during the Stalin era was an important factor for the conflict between Abkhazia and Georgia that started in the late 1980th following the breakdown of Soviet Union.
During the war in Abkhazia 1992-1993 roughly 250 000 Georgians did leave Abkhazia and at a 2003 census Georgians represented only 22% of the population.
The Head of Georgia's wartime administration, Giorgi Khaindrava, did threaten Abkhaz with genocide in an interview in Le Monde in April 1993 stating ""there are only 80,000 Abkhazians, which means that we can easily and completely destroy the genetic stock of their nation by killing 15,000 of their youth. And we are perfectly capable of doing this."
South Ossetia is an area (less than Hallands län) with a population of 53 000 inhabitants (less than Sundsvall) in the north part of Georgia, at the border to the Russian area North Ossetia. The area has also been a conflict zoon since the fall of Soviet Union in late 1980th. Nationalism on both sides was a driving factor for The Ossetia War 1991-1992.
NATO announced on 3rd of April 2008 that Georgia and Ukraine could be future member of the Alliance and the Russian response was a decree to support the independent movement in Abkhaz and South Ossetia. A short war followed in South Ossetia between Russia/South Ossetia and Georgia. An EU report concluded that Georgia started the war with night bombings in South Ossetia. The International War Crime Tribune opened an investigation on committed crimes from both sides, for the period of 1rst of July to 10th of October 2008. South Ossetia is currently ethically clenched and the population is 90 % South Ossetians.
Why are EU and NATO so interested in Georgia?
There are important oil and gas pipelines from Baku in Azerbaijan, passing Georgian territories and primarily owned by US and European companies. Georgia does also have a long border to Russia and is therefore of strategic importance for NATO.
The Swedish newspaper Aftonbladet reviled 2015 that Sweden, via Swedish Aid (SIDA) had spent 95 million crowns ($11,6 million) since 2007 to support EU and NATO marketing in Georgia, via three US based organisations, that are financed by USAID.
The European Union and the US support the nationalistic forces in Georgia and want to force Abkhazia and South Ossetia to be part of Georgia, despite their independence since 1991.
REF:
- Stephen D. Shenfield, The Stalin-Beria Terror in Abkhazia, 1936-1953, by Stephen D. Shenfield, 2010
- https://www.aftonbladet.se/nyheter/article20145109.ab
- https://en.wikipedia.org/wiki/Georgia_%28country%29#Georgia_after_restoration_of_independence
2017-11-19 - US military forces and CIA under war crimes investigation
Amerikanska militären och CIA utreds för krigsbrott. Summering på svenska nedan.
English: 2017-11-03 - International Criminal Court (ICC) Prosecutor, Fatou Bensouda, have requested authorisation to open an investigation into crimes alleged to have been committed in connection with the armed conflict in Afghanistan. A preliminary investigation did find that there is a reasonably basis that, at a minimum, the following crimes have occurred:
a) Crimes against humanity and war crimes by the Taliban and their affiliated Haqqani Network;
b) War crimes of torture and related ill-treatment by Afghan government forces;
c) War crimes of torture and related ill-treatment, by US military forces deployed to Afghanistan and in secret detention facilities operated by the CIA, principally in the 2003-2004 period, although allegedly continuing in some cases until 2014.
Ongoing investigations at ICC also include the conflicts in Sudan/Dafur, Democratic Republic of Congo, Libya and Mali to mention a few. ICC demonstrates by investigating the US military forces and the CIA that no one has immunity and can commit war crimes, without being held accountable.
Svenska: 2017-11-03 – ICC åklagare, Fatou Bensouda, har ansökt om att få öppna en utredning om brott begångna i Afghanistan. En preliminär utredning visar att det finns grund för att, minst, följande brott har begåtts:
a) - Brott mot mänskligheten och krigsbrott utförda av Talibanerna m.fl;
b) - Krigsbrott – tortyr etc. utförda av Afghanska regeringstrupper;
c) - Krigsbrott – tortyr etc. utförda av Amerikanska militären och CIA;
Det pågår även liknande utredningar i konfliktområden som Sudan/Darfur, Demokratiska Republiken Kongo, Libyen and Mali, för att nämna några. ICC visar med utredningen av Amerikanska militären och CIA att ingen har immunitet och kan utföra krigsbrott, utan att ställas till svars.
2017-11-19 - EN: US and EU are hypocrites on Russian annexation of Crimea and Israel annexation of Palestinian land.
SW: USA och EU är hycklare när det gäller den ryska annekteringen av Krim och den Israeliska annekteringen av Palestinska områden! Summering på svenska nedan.
ENGLISH: "Whatever U.S. and European leaders may say, it seems clear a majority of the residents of Crimea were only too happy to abandon Ukraine and join the Russian Federation." (By Simon Tisdall, assistant editor of the Guardian, Special to CNN)
"The velocity with which the US and EU imposed economic sanctions on Russia for its annexation of Crimea is equal to the mass of hypocrisy on Israel's creeping annexation of Palestinian land through colonial-settlement expansion. The ongoing expansion is seen as a war crime "falling into the provision of Article 8 of the International Criminal Court statutes".
Following the overwhelming vote by Crimean's to secede from the Ukraine and join Russia in the rushed referendum on March 16, US President Barack Obama, on March 20, ordered a second round of soft sanctions targeting a list of key Russian officials, businessmen and bankers, sending ripples of instability through Russia's stock market." (Dr Vacy Vlazna is Coordinator of Justice for Palestine Matters in Aljazeera)
SWEDISH: Oavsett vad USA och Europeiska ledare säger så är det klart att en majoritet av innevånarna på Krim var överlyckliga med att lämna Ukraina och anslutas till Ryssland (Simon Tisdall, CNN)
Hastigheten med vilken USA och Europa genomförde ekonomiska sanktioner mot Ryssland för annekteringen av Krim liknar det omfattande hyckleri som omgärdar Israels långsamma annektering av Palestinska områden genom kolonial bosättnings expansion. Den pågående expansionen betraktas som ett krigsbrott, enligt artikel 8 i ICCs lag. (Dr Vacy Vlazna, Aljazeera).
2017-10-08 – Blanda inte in biståndspolitiken i frågan om tiggeriet!
Fattiga EU-medborgare som tigger i Sverige kommer oftast från Rumänien och Bulgarien. Två länder som blev medlemmar i EU 2007 och som båda har betydande problem med korruption och låg ranking i demokratiindex. Att de blev medlemmar i EU berodde inte på att de reformerat sin statsapparat för att harmonisera med Eu:s värderingar, utan på grund av att det var militärstrategiskt att flytta EU:s och framförallt NATO:s gräns, österut.
Båda länderna är fattiga i ett Europeiskt perspektiv men rika i ett internationellt perspektiv. Human Development Index (HDI) är en metod för att mäta välfärd, med Norge i topp med HDI=0,949 och med Sverige på fjortonde plats med HDI=0,913. Rumänien har HDI=0,802 [mycket högt HDI värde >0,8], tätt följt av Kuwait med HDI=0,8. Bulgarien har HDI=0,795 [högt HDI värde >0,7], före Bahamas med HDI=0,792.
Lågt HDI ligger mellan 0-0,549 och i den gruppen finns länder som är mottagare av svenskt bistånd. Anders Holmensköld (oppositionsråd i Kungälv) vill använda biståndsmedel för att lösa tiggeriet. Ett slags omvänd Robin Hood strategi – ta från de fattiga och ge till de "rika". Det är oetiskt att ta biståndspengar från fattiga länder som Rwanda (0,498), Uganda (0,493) och Sydsudan (0,418) för att använda dem i tiggarnas hemländer.
Bulgarien och Rumänien är båda medlemmar av Nato och har då avtalat om att investera 2 % av sin BNP i försvaret. Baserat på 2016 ligger Bulgarien på 1,3 % och Rumänien på 1,41 %, medan Sverige har en försvarsbudget på 1,1 %. De båda länderna föredrar alltså att investera mer än Sverige i försvaret, istället för att ge sina medborgare ett socialt skyddsnät och välfärd.
I ett svenskt perspektiv hägrar också en potentiell order på åtta Jas plan till ett värde av 7,5 miljarder kronor. Bulgarien behöver nämligen uppgradera sitt flygvapen då de är medlem av Nato.
Bulgarien och Rumänien har resurser som kan omfördelas till välfärd. Låt därför biståndet gå till riktigt fattiga länder.
Lennart Ask
2017-09-18 – Ett riktigt dåligt förslag från Patricia Hedelius på SvD
I Svd Näringsliv 2017-07-24 föreslå Patricia Hedelius efter en analys av Sveriges statsskuld att regeringen borde sälja halva sitt innehav i Telia och amortera av på statsskulden. Hon drar paralleller mellan AB Sverige och den höga skuldsättningen för bolån hos privatpersoner.
Den svenska stadsskulden var på svindlande 1 310 miljarder i juni 2017 men det skall ställas mot Sveriges intäkter på lika svindlande 1 002 miljarder. Ett svenskt par där båda tjänar 25 000 kronor/mån skulle, med samma skuldsättning, endast kunna låna 786 000 kronor.
Det visar att stadsskulden inte är ett skuldberg, som Patricia Hedelius beskriver det. I själva verket har Sverige en liten stadsskuld på ca 30 % av BNP (jämför med 2016 EU statistik – Tyskland 68 %, Frankrike 96 %, Storbritannien 89 %) och Sverige har den högsta kreditratingen. Att amortera av 2,5 % av stadsskulden som föreslås, skulle alltså inte påverka kreditratingen eller Sveriges förmåga att låna.
Snitträntan på stadsskulden är ca 1,67 % och avkastningen på Telia-aktierna, som föreslås användas för amortering är drygt 5 %. Staten skulle alltså förlora ca 1 200 miljoner per år (efter skatt) i utdelning på förslaget och endast få en reducerad kostnad på stadsskulden på ca 544 miljoner.
Med Hedelius förslag går staten alltså miste om ca 656 miljoner per år. Inte speciellt listigt!
Lennart Ask
2017-09-17 - Kom ihåg Sabra och Shatila!
Svenska:
För 35 år sedan (16-17 september 1982) dödade Falangisterna (Katolska Maroniter), med support av Israels arme upp till 3 500 personer varav huvuddelen kvinnor, barn och åldringar.
Israels arme omringade Palestinska flyktingläger i Beirut och släppte in 150 militanta Falangister i lägren Sabra och Shatila. Under en och en halv dag dödade de upp till 3 500 personer. Israeliska soldater blev snabbt varse om att civila mödades, men gjorde inget för att stoppa massakern. Istället sköt de upp lysraketer för att lysa upp området, släppte in förstärkningar den andra dagen och bistod även med grävmaskiner för att gräva massgravar.
Den Israeliska Kahnan kommissionen, som utredde mördandet, drog slutsatsen att Israels Försvarsminister Arie Sharon var personligt ansvarig för massakern. Nästan 20 år senare väljs Sharon till Premiärminister i Israel samtidigt som 23 överlevande offer för massakern lämnar in en stämning om krigsbrott mot Sharon i Belgiskt domstol. Falangist ledaren Elie Hobeika, som var ansvarig för kontakterna med Israel under invasionen 1982 och ledare för männen som utförde massakern hade för avsikt att vittna i rättegången om krigsrättsbrott. Han dödades dock i en bilbomb innan rättegången och åtalet lades ner då Premiärminister Sharon inte inställde sig vid rättegången.
Källa: https://imeu.org/article/the-sabra-shatila-massacre
English:
35 years ago (1982) in Sabra and Shatila - Catholic killers (the Phalangists) with Israel's support committed war crimes:
"On Wednesday, September 15, the Israeli army surrounded the Palestinian refugee camp of Shatila and the adjacent neighborhood of Sabra in West Beirut. The next day, September 16, Israeli soldiers allowed about 150 Phalangist militiamen into Sabra and Shatila.

The Phalange, known for their brutality and a history of atrocities against Palestinian civilians, were bitter enemies of the PLO and its leftist and Muslim Lebanese allies during the preceding years of Lebanon's civil war. The enraged Phalangist militiamen believed, erroneously, that Phalange leader Gemayel had been assassinated by Palestinians. He was actually killed by a Syrian agent.

Over the next day and a half, the Phalangists committed unspeakable atrocities, raping, mutilating, and murdering as many as 3500 Palestinian and Lebanese civilians, most of them women, children, and the elderly. Sharon would later claim that he could have had no way of knowing that the Phalange would harm civilians, however when US diplomats demanded to know why Israel had broken the ceasefire and entered West Beirut, Israeli army Chief of Staff Rafael Eitan

justified the move saying

it was "to prevent a Phalangist frenzy of revenge." On September 15, the day before the massacre began, Israeli Prime Minister

Menachem Begin told

US envoy Morris Draper that the Israelis had to occupy West Beirut, "Otherwise, there could be pogroms."

Almost immediately after the killing started, Israeli soldiers surrounding Sabra and Shatila became aware that civilians were being murdered, but did nothing to stop it. Instead, Israeli forces fired flares into the night sky to illuminate the darkness for the Phalangists, allowed reinforcements to enter the area on the second day of the massacre, and provided bulldozers that were used to dispose of the bodies of many of the victims."

"On Saturday, American Envoy Morris Draper, sent a furious message to Sharon

stating

:
'You must stop the massacres. They are obscene. I have an officer in the camp counting the bodies. You ought to be ashamed. The situation is rotten and terrible. They are killing children. You are in absolute control of the area, and therefore responsible for the area.'
The Phalangists finally left the area at around 8 o'clock Saturday morning, taking many of the surviving men with them for interrogation at a soccer stadium. The interrogations were carried out with Israeli intelligence agents, who

handed many of the captives back

to the Phalange. Some of the men returned to the Phalange were later found executed."

"An official Israeli investigation, the

Kahan Commission

, concluded that between 700 and 800 people were killed, based on the assessment of Israeli military intelligence.

An investigation by Beirut-based British journalist Robert Fisk, who was one of the first people on the scene after the massacre ended, concluded that

The Palestinian Red Crescent

put the number

of dead at more than 2000.

In his book,

Sabra & Shatila: Inquiry into a Massacre

, Israeli journalist Amnon Kapeliouk reached a maximum figure of 3000 to 3500."

"Following international outrage, the Israeli government established a committee of inquiry, the Kahan Commission. Its

investigation found

that Defense Minister Sharon bore "personal responsibility" for the massacre, and recommended that he be removed from office. Although Prime Minister Begin removed him from his post as defense minister, Sharon remained in cabinet as a minister without portfolio. He would go on to hold numerous other cabinet positions in subsequent Israeli governments, including foreign minister during Prime Minister Benjamin Netanyahu's first term in office.

Nearly 20 years later, in March 2001, Sharon was elected prime minister of Israel.

In June 2001, lawyers for 23 survivors of the massacre initiated legal proceedings against Sharon in a Belgian court, under a law allowing people to be prosecuted for war crimes committed anywhere in the world.

In January 2002, Phalangist leader and chief liaison to Israel during the 1982 invasion, Elie Hobeika, was

killed by a car bomb

in Beirut. Hobeika led the Phalangist militiamen responsible for the massacre, and had announced that he was prepared to testify against Sharon, who was then prime minister of Israel, at a possible war crimes trial in Belgium. Hobeika's killers were never found.

In June 2002, a panel of Belgian

judges dismissed

war crimes charges against Sharon because he wasn't present in the country to stand trial."
Source: https://imeu.org/article/the-sabra-shatila-massacre
2017-08-20 – Professorn vet ytterst lite om hur välfärdstaterna fungerar!
Den finska professorn Paul Lillrank skriver om Sveriges oförmåga att hantera invandringen i det svenskspråkiga Huvudstadsbladet. Inlägget använder traditionella floskler som "muslimsk massinvandring", " multikulturalism innebär konflikter", att Sverige är en "blåögd välfärdsstat" och att hemvändande IS-soldater kärleksbombas. Man kommer osökt att tänka på Donald Trump.
Föga förvånande sprids också inlägget i forum som förespråkar en mer rasren agenda.
Lillrank avslutar med: "Just nu skulle jag behöva lite lugnande läsning, men det går inte att finna".
- - Professor Lillrank. Med din apokalyptiska beskrivning av Sverige och i egenskap av professor vid institutionen för produktionsekonomi vid Aalto-universitetet, kanske följande information kan lugna ner dig.
I OECD:s välståndslista för 2016 ligger Sverige på tionde (10) plats medan Finland ligger på femtonde (15). IMF World Economic Outlook Database för 2016 anger att BNP ökar med 3,3% i Sverige, medan Finland endast har en ökning på 1,4%. Vad gäller arbetslösheten (15-74år) i maj 2017 framgår av Eurostat att Sverige har 6,7 %, medan Finland har 8,8 %.
- - Sveriges ekonomi är med andra ord mycket bättre än Finlands. Om det beror på invandringen framgår ej.
- Jag får erkänna att jag helt stödjer J.P. Roos (professor socialpolitik) som i samma tidning för flera år sedan konstaterade: "Ju mera Lillrank skriver, desto klarare är det att han vet ytterst lite om hur välfärdstaterna fungerar".
Lennat Ask
2017-08-10 Why I follow Al Jazeera
It is an awkward coalition in the Middle East between a Sunni Muslim group, consisting of dictators from Saudi Arabia, Bahrain, The Arab Emirates (including Dubai and Abu Dhabi) and Egypt and Israel. They all want to shut down the news agency Al Jazeera in Qatar. Countries that want to shut down media have not understood the concept of democracy. That is why I regularly follow Al Jazeera (http://www.aljazeera.com)!
Det råder en besynnerlig samstämmighet i mellanöstern mellan en Sunnimuslimsk grupp, bestående av diktaturerna i Saudi Arabien, Bahrain, Arabemiraten (bl.a. Dubai och Adu Dhabi) och Egypten, samt Israel. Alla vill stänga ner nyhetskanalen Al Jazeera i Qatar. Länder som vill tysta media har inte förstått begreppet demokrati. Därför följer jag regelbundet Al Jazeera (http://www.aljazeera.com)!
Lennart Ask
2017-06-07 – IS DONBAS IN EAST UKRAINE TRAPPED IN THE COLD WAR?
Donbas is an area in East Ukraine with the two regions Luhansk and Donetsk. While Ukrainians was a minority on Crimea representing only 25 % of the inhabitants they were the majority in the Donbas region with ~57 % of the inhabitants. Russians were the largest minority in the area with more than 38 % of the inhabitants, according to the 2001 Ukraine census.
Russian were however the majority language in Donbas according to a 2004 study by the Kyiv International Institute of Sociology, with 93 % in Luhansk and 89 % in Donetsk.
The Donbas conflict started at the same time, based on the same rationale as on Crimea, but was initiated by the largest minority group. The people in Donbas with Russian origin started an independents war in 2014 and were supported by Russia.
Both sides have gunned highly populated areas and Human Right Watch has stated that they are potentially committing war crimes. It is no surprise that human rights are violated in occupied territories but it may come as a surprise to find out some crimes reported by Human Rights Watch, committed by Ukrainian groups in 2016:
· "In July, authorities arrested the head of Aidar battalion, Valentin Liholit, on charges of abduction, robbery, and other violent crimes against civilians";
· "Also in July, a former member of the Tornado police battalion was sentenced to six years' imprisonment for torture and rape. Twelve other former members of the battalion, including the commander, were under investigation for sexual violence, robbery, and other violent crimes"
In January 2017 the Cabinet of Ukraine approved a plan that will provide some Russian influence in the region. An estimated 10 000 people have died in the conflict according to UN Human Rights Monitoring Mission in Ukraine, in March 2017.
In 2014 Malaysia Airlines Flight 17 was shot down over Donetsk, killing 298 persons. The US shot down Iran Air Flight 655 in 1988 killing 290 persons and Ukraine shot down Siberia Airlines Flight 1812 over Black Sea in 2001 killing 78 persons. Neither the US nor Ukraine accepted any legal responsibility for the accidental shot downs but accepted to pay $200.000 to each victim's family.
Israel did deliberately shot down Libyan Arab Airlines Flight 114 over Sinai in 1977, killing 108 persons. United Nation did accept that Sinai was occupied by Israel and thereby did not take action. Israel did however also compensate the victims.
Pan AM Flight 103 had a bomb that exploded over Lockerbie in 1988 killing 270 persons. Libya did not accept responsibility for the bomb, but did compensate the victims' families with $10 million per person. The last part of the money was released in a deal signed by the US and Libya in 2008 and did also include compensation for the 40 persons killed by the US bombing of Benghazi and Tripoli in 1986. These bombings were done without United Nation approval and did therefore violate international law.
Whether the Malaysia Airlines incident was accidental or not is therefore not the issue. The cynical fact is that this has happened before, no one has ever been held accountable of these types of incidents, apart from the Pam Am bombing where two Libyans was sentenced, and money can always resolve the matter.
The US and the European Union have implemented sanctions on Russia for their involvement in the Donbas conflict and the "occupation" of Crimea. There are however no sanctions on Israel for their 50 years occupation of the West Bank and other areas or on Morocco for their occupation of West Sahara. It may be of interest to know that the US has provided more than $48 billion in military grants to Israel, since 2000 and that the US and France are the two biggest arms dealers to Morocco.
The European Union states "The European Union and Israel share a long common history, marked by growing interdependence and cooperation. Both share the same values of democracy, respect for freedom and rule of law and are committed to an open international economic system based on market principles". While the UN report: Israeli Practices towards the Palestinian People and the Question of Apartheid from mars 2017, states" This report concludes that Israel has established an apartheid regime that dominates the Palestinian people as a whole."
The European Union, US and NATO seems to have a different legal agenda when it comes to own and friend's violations of international law, using the cold war rational – the evil enemy comes from east and speaks Russian. What is done by "Western countries" and their allies are however always right, whether it is violating international law or not.
Is there logic to this thinking or does this "Western" arrogance fuel terrorism?
Lennart Ask
Ref: Wikipedia
2017-05-09 – HAS CRIMEA done a "CREXIT" FROM UKRAINE?
Crimea is a peninsular in the north part of The Black Sea hosting the Russian Black Sea Fleet in the city Sevastopol and was previously part of the Soviet Union. When Ukraine became independent in 1991 Crimea became The Autonomous Region of Crimea within Ukraine. At the same time Sevastopol had its own administration outside The Autonomous Region of Crimea, but within Ukraine.
In the 2001 Ukraine census the three major ethnic groups on Crimea was Russians (60.4%), Ukrainians (24.0%) and Crimean Tatars (10.8 %). Ukrainians has never exceeded 26.5 % of the population on the Crimea peninsular, dating back to 1897 census [1].
Both 62 % of Ukrainians and 62 % of Russians on Crimea did think that Ukraine was going in the wrong direction in a 2011 study [2]. The main problem on Crimea, at this time, was unemployment, control over inflation, corruption and low industry production. A large majority [61 %] was against military cooperation with the US [only 21 % was in favorer]. Ukrainians and Russians were however united against that Crimean Tatars should be compensated with land, for being deported by Stalin.
The study in 2011 also stated that Crimean's were against Ukraine joining the EU [51 % against and 31 % for] and very much against joining NATO [85 % against and 5 % for]. The Ukraine & NATO maneuver on Crimea - Sea Breeze 2006 - was cancelled due to anti-NATO protests and the Supreme Council of the Autonomous Republic of Crimea declared Crimea a "NATO free territory" [3].
US Department of State "Ukraine 2013 Human Rights report" declare that the 2012 election in Ukraine did not meet international standards for fairness and transparency and that security forces commit human rights violations, including torture.
Russian is the primary language spoken on Crimea [4], but also the primary language in business, courts and in education.
In November 2013 the Ukraine pro-Russian president refused to sign an Association Agreement with the European Union and instead seeking closer ties with Russia [5]. This resulted in the Euromaidan protests in Kiev. Bloomberg [6] reported in December 2013 that the Ukraine President was seeking a loan for up to $15 billion from Russia. Ukraine's gas debts to Russia at this time were $2.2 billion [7].
Professor Philip Raworth from Alberta made the following analysis [8]: "Anti-Ukrainian and pro-Russian feeling has existed in Crimea ever since the collapse of the Soviet Union. The ousting of the pro-Russian Ukrainian President Yanukovych on February 22, 2014 and his replacement by a pro-European and nationalistic Ukrainian administration led to violent demonstrations in Crimea and precipitated the intervention of Russian forces. The situation was further worsened by the initial – and unwise – decision of the new authorities in Kiev to make Ukrainian the sole language throughout the country including Crimea. The decision was reversed but the damage was done."
As a result of the Ukraine decisions The Supreme Council of Crimea announced in late February to hold the Crimean referendum, 2014. Voters on Crimea would vote on independence from Ukraine or joining Russia. The Prime Minister of Crimea claimed control of all military, police and other security forces and asked Putin for support of keeping peace [9]. The result of the referendum was in favor of joining Russia and Crimea and Sevastopol applied and was admission as federal subjects of Russia.
The referendum and the annexing to Russia were considered illegal by Ukraine, the European Union, USA, etc. Elections did not meet international standards for fairness as one would expect with two non-democratic [11] and corrupt counties [12] involved and the US and EU have implemented sanctions against Russia.
Several polls, after the annexation [13], show that more than 82 % of the Crimean's felt that the result of the referendum reflected the view of the people. In a January 2015 poll [14] only 4 % was against joining Russia and 51 % reported their well-being had improved [10].
The Swedish professor Sverker Oredsson states in January 18th 2017 in Dagens Industri that the West has to be wise and diplomatic and admit that Crimea has been and will continue to be part of Russia.
Sweden support sanctions on Russia but do not argue for sanctions on Turkey for the occupation on Northern Cyprus, Israel for the occupation on the West Bank etc. or Morocco for the occupation of West Sahara.
Where is the logic in this Swedish "diplomacy"?
Lennart Ask
References:
1) en.wikipedia.org/wiki/Demographics_of_Crimea

2) Study 2011 by the International Republican Institute Baltic Surveys Ltd. / The Gallup Organization

3) https://en.wikipedia.org/wiki/2006_anti-NATO_protests_in_Feodosia

4) https://en.wikipedia.org/wiki/Russian_language_in_Ukraine

5) https://en.wikipedia.org/wiki/2014_pro-Russian_unrest_in_Ukraine

6) https://www.bloomberg.com/news/articles/2013-12-17/yanukovych-preparing-to-meet-putin-for-loan-amid-protests

7) http://www.nato.int/docu/review/2014/NATO-Energy-security-running-on-empty/Ukrainian-conflict-Russia-annexation-of-Crimea/EN/index.htm

8) An Introduction to the Constitution of the Autonomous Republic of Crimea, Philip Raworth, B.A. (Hons), M.Phil., LL.B., LL.M, Professor Emeritus, University of Alberta

9) http://www.aljazeera.com/news/europe/2014/03/ukraine-crimea-leader-asks-putin-help-20143184757803489.html

10 https://www.forbes.com/sites/kenrapoza/2015/03/20/one-year-after-russia-annexed-crimea-locals-prefer-moscow-to-kiev/#470251bf510d

11) Democracy Index: Ukraine 86 and Russia 136

12) Corruption Index: Both on place 131

13) Broadcasting Board of Governors, Gallup and Pew Research Centre

14) Ukrainian branch of Germany's biggest market research organization, GfK
2017-04-19 – JOINING NATO IS NOT DEFENDING DEMOCRACY AND SEEKING POLITICAL SOLUTIONS!
Only one third of the 28 NATO members are ranked as "Full democracy" [Source: Democracy Index 2016]. Two members – Albania [ranking 81] and Turkey [ranking 97] – are defined as "Hybrid regimes", the last step before "Authoritarian", while the other 61 % are defined as "Flawed democracy".
There are five countries that are in discussions to join NATO (Georgia [78], Montenegro [85], Ukraine [86], Macedonia [95] and Bosnia Herzegovina [101]) that all are "Hybrid regimes". President Trump ratified Montenegro's accession to NATO on the 11th of April 2017.
One would expect that Sweden, with ranking 3rd in Democracy index and Turkey, with ranking 97, would have significant differences in opinion related to several issues in a military context. Not to mention US [A "Flawed democracy" with ranking 21] total ignorance of international laws.
The main threat to Sweden is the potential that Russia would invade the Island of Gotland, according to the warmongering members of the Swedish parliament. Why Russia would attach a member of the European Union is unclear, while Gazprom [the majority of the shares are controlled by the Russian Government] at the same time are investing €3.6 billion in Nord Stream II [A second pipeline to deliver gas to EU]. The probability that Russia will invade Gotland is not zero but probably in that area. So what is the real reason for joining NATO?
The opportunity to engage in war and to demonstrate war materials, including the aircraft JAS is probably a better incentive. We saw this happened in Libya, where Sweden joined forces with the Authoritarian regimes (Jordan, Qatar and United Arab Emirates) to "take out" an Authoritarian leader - Muammar Gadhafi. Sweden participated in creating a chaos in Libya and the county has fallen in Democracy Index from 125 in 2011 to 155 2016 and are one of the most corrupt country in the world today [Corruption Index ranking 170]
With the new NATO applicants Ukraine and Georgia, the opportunity to engage in war will improve significantly. The Crimea and Donetsk (East Ukraine) conflicts are well known but Georgia in the unstable region in Caucasus, with two autonomous enclaves under Russian control, may be unknown to most Swedes.
In June 2016 Sweden participate in the NATO military exercises in the Baltic region and this week the US four stars General David G. Perkins visited Gotland. With the ongoing Swedish and NATO military activities in the Baltic Sea, Sweden and NATO may well manage to provoke incidents in the this area.
It is interesting to see these Swedish military activities in the context of Foreign Minister Margot Wallstöm's conclusion after Sweden's 100 days in the UN Security Council, when she states – the answers reside in political solutions!
Lennart Ask
2017-04-10 - SWEDISH PARTIES WANT TO INVEST IN MILITARY SPENDING INSTEAD OF SOCIAL WELFARE!
The Centre Party (C) and the Christ Democrats (KD) did change their view on NATO and decided 2015 to join the two warmongering (krigshetsande) parties the Liberals (L) and the Moderate Party (M) in support for joining NATO. The Alliance (C, KD, L and M) in Swedish politics are now united and pro NATO.
President Trump has addressed that only a few of the NATO members make the their fair contribution to NATO – 2 % of GDP – and want countries like Germany (1,18 %), Denmark (1,1 %), Italy (1,1 %), The Netherlands (1,13 %), Norway (1,47 %), Spain (0,93 %) and Canada (0,93 %) to increase defense spending [Source: NATO 2015 spending].
Sweden is currently (2015) spending 1.1 % of GDP [Source: Stockholm International Peace Research Institute (SIPRI)] on defense and would need close to 40 000 000 000 (40 billion) Swedish crowns to reach the 2% target. This is equivalent to the total spending on Justice (police 21 billion, prisons 7.8 billion, courts 5.3 billion, legal counseling 2.5 billion, prosecutors 1.4 billion and the security police 1.1 billion) in order to understand the impact this would have on the national budget.
The Alliance is not in favor of taxes, which will leave them to reduce welfare spending. Joining NATO would require significant cuts (~4.5 %) in the budget that will most likely hit the welfare sector. It will be interesting to see how the Alliance intends to finance the proposed NATO membership before the general election 2018!
Lennart Ask [First published on www.kongelf-forlag.se]
2017-02-26 - MR PRESIDENT
I am a Swede and a 10th generation immigrant and I do not think that you are right on your remarks about Sweden. However I do accept your honest statement "You think our country's so innocent?" and I do not think that the US is innocent. You are actually guilty!
But first, let's address some basic facts comparing our countries:
Forbes magazine rate Sweden the world's most business friendly country with a GDP of 4,2%. With the US on 23rd place, with GDP at 2,6%. Some more numbers where Sweden outrank the US:
GDP per person 51 638 (US), 55 186 (Sweden) - GDP growth the last decade (10 years) 38% (US), 44% (Sweden) - Trade balance -2,7% (US), 5,4% (Sweden) – Debt to GDP 104% (US), 40% (Sweden) – OECD better life Index 9th place (US), 6th place (Sweden) – Life expectance age 79 year (US), 82 year (Sweden) – Murder rate per 100 000 inhabitants 5,0 (US), 0,9 (Sweden) – Portion of the inhabitants that are part of work force 62,9% (US), 65,3% (Sweden) – (Ref: Henrik Mitelman Dagens Industri 21 February 2017)
So we are doing all right in Sweden. But let's address the issue on immigration.
The Republican President George W Bush started the war in Iraq 2002. He's motives were that Iraq had Weapons of Mass Destruction, something that was considered "fake news" by Mr. Hans Blixt – former manager of IAEA (The International Atomic Energy Agency). I may add that "Iraq has the world's second largest proven oil reserves". Also "with Washington running the show, "friendly" companies expect to gain most of the lucrative oil deals that will be worth hundreds of billions of dollars in profits in the coming decades." (GPS forum)
The United Nations secretary general, Kofi Annan, declared explicitly that the US-led war on Iraq was illegal. Mr. Annan said that the invasion was not sanctioned by the UN Security Council or in accordance with the UN's founding charter. (2004 The Guardian).
In the US Military prison Bucca in Iraq did the Islamic extremists and the Ba'athists loyal to Saddam Hussein, meet. The result of the mixing of organized military discipline with highly motivated, highly active ideological fervor is what we see today. (CBS News)
The war in Iraq did spill over to Syria and has caused additional migration of refugees to Europe. However the number reaching the EU from Syria, according to the late Swedish Professor Hans Rosling (in April 2015), is only 2%, while 66% is internal refugees and 32% has fled to Turkey, Lebanon and Jordan.
The total US cost for the Iraq war is estimated to $3.9 Trillion ($3 900 000 000 000) according to Brown University 2013. More than 70 percent of those who died of direct war violence in Iraq have been civilians — an estimated 134,000 (2013). The Iraq War will ultimately cost U.S. taxpayers at least $2.2 trillion. Because the Iraq war appropriations were funded by borrowing, cumulative interest through 2053 could amount to more than $3.9 trillion.
The total number of U.S. service members killed in Iraq was 4,488 (2013) compared to 2 996 people that died in the 9/11 attacks. At least 3,400 (2013) U.S. contractors have died as well, a number often under-reported.
So, the US is actually responsible for a lot, including the current migration crisis.
We don't build walls in Europe. In fact we did tear down the Berlin Wall. But I sure hope the international community can make US pay for the misery that your country has caused the people of Iraq and Syria!
Lennart Ask [First published on www.kongelf-forlag.se]
Swede (10th generation immigrant from Belgium) and a God Man, appointed by a Swedish Court
2017-01-28 - SWEDEN AND DEMOCRACY IN THE UN SECURITY COUNSIL
"On 28 June 2016, Sweden was elected by a wide margin as a non-permanent member of the UN Security Council for the 2017–2018 term. In 2017 Sweden will take its seat on the Security Council with the five permanent members – China, France, Great Britain, Russia and the United States – and the nine other non-permanent members. Sweden will hold the presidency of the Security Council in January 2017, the first month of its two-year term." [http://www.government.se/government-policy/sweden-in-the-un-security-council/]
According to the Democracy Index 2016, an index compiled by the UK based Economist Intelligence Unit, the permanent members [with veto rights] of the Security Council represent "full democracy", "flawed democracy" and "authoritarian" regimes, but no "hybrid regime" such as Turkey.
"The US has been downgraded from a "full democracy" to a "flawed democracy" because of a further erosion of trust in government and elected officials there." [http://www.eiu.com/public/topical_report.aspx?campaignid=DemocracyIndex2016]
One issue that Sweden as presidency might address could be democracy?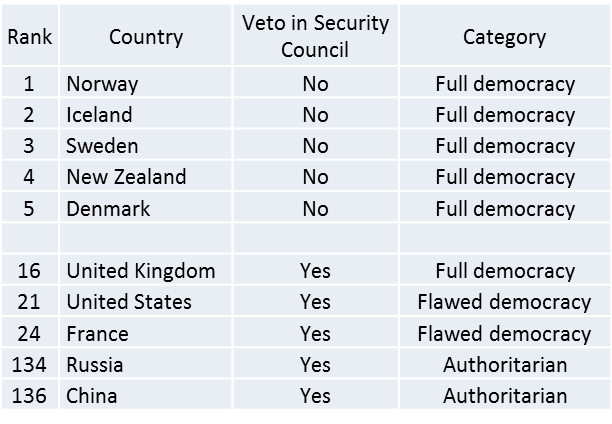 2017-01-24 NO NEED TO MAKE SWEDEN GREAT AGAIN!
We are already great according to FORBES list of the world's most business friendly countries. The rating includes 11 factors, including corruption, innovation, taxes, property rights, investors protection and technology. Here is a sample of the rating: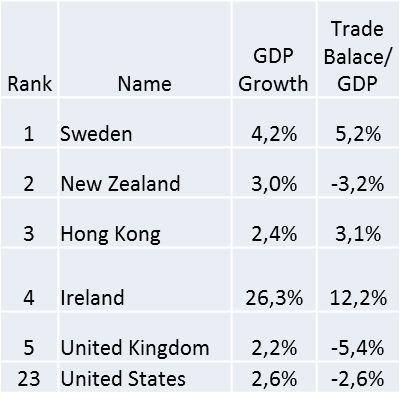 2016-12-23 HOW CAN A LOOSER WIN?
"
A vote is like a rifle; its usefulness depends upon the character of the user" (Theodore Roosevelt, 26th US President).
Hillary Clinton got roughly the same number of votes that President Obama received four years ago en route to his reelection, but she nonetheless lost the presidency to Donald Trump, who came in at least 2.8 million votes behind her.
(LA Times).
More than $1 billion was raised in support of the two major-party candidates
.
Democracy is sometimes referred to as "rule of the majority", but not in this case!
The real reason to have an Electoral College is to protect slave states. "In a direct election system, the South would have lost every time because a huge percentage of its population was slaves, and slaves couldn't vote" (Professor Akhil Reed Amar Yale University). Among the Founding fathers we have slave owner Thomas Jefferson, the 3rd US President.
An undemocratic election system and $ is the answer and remember: Promise everything to everybody (Quintus 64 BC)
2016-11-14 - HOW TO WIN AN ELECTION:
5. Promise everything to everybody: Except in the most extreme cases, candidates should say whatever the particular crowd of the day wants to hear. Tell traditionalists you have consistently supported conservative values. Tell progressives you have always been their side. After the election you can explain to everyone that you would love to help them, but unfortunately circumstances beyond your control have intervened. Quintus assures his brother that voters will be much angrier if he refuses to promise them their hearts´ desire than if he backs out later.
How to Win an Election is an ancient Roman guide for campaigning that is as up-to-date as tomorrow's headlines. In 64 BC when idealist Marcus Cicero, Rome's greatest orator, ran for consul (the highest office in the Republic), his practical brother Quintus decided he needed some no-nonsense advice on running a successful campaign.
2016-11-02 - GIRLS OPPORTUNITY INDEX by Save the Children Fund.
The Save the Children Fund is a charity registered in England and Wales (213890) and Scotland (SC039570). Registered Company No. 178159.